Tuesday, March 30, 2010
March Music Madness
Here are 4 music videos that were just uploaded to YouTube this month, March 2010. Two are covers and two are originals. Check out these talented female musicians of YouTube. Please support their music by leaving comments on their videos and subscribing to their channels!
But first, The News!
Renetto
is doing an interesting new series of videos called "Emo Dad" in which he uses vlogging as a form of therapy. Click the pic on the left to watch
EmoDad: Am I a Loser?
I also recommend
EmoDad: Faith?
which deals with faith in God - we wrote about that subject in our
last post
.
Our friend
Cutiemish
just released an iPhone/iTouch game app called
Puny Humans
and it's available at the
iTunes app store
now. Click the pic to the left to watch Mishy talk about the new app.
Click Here
to read our
interview
with
Cutiemish
.

Wired Magazine has an article in their April 2010 edition about the
fifth anniversary
of YouTube, titled "The 5 secrets of YouTube's success." Here are a few facts from the article: 87% of ratings are 5 stars. Most discussed video is "
10 questions that every intelligent Christian must answer
" (Not anymore, now its
this one
. See our
last post
for more on religion videos.)
Fred
has a recently inked movie deal. What's the ultimate goal at YouTube? "We want you to go into passive mode, sit back, and watch." (Hmmm, what does that mean for the YouTube community?)
Okay, now let's watch some Music Videos!
I am really loving
TiffanyJoAllen
's latest video which is a beautiful cover of "Hallelujah"! Her guitar strumming is perfect and her voice is powerful. Tiffany adds her own style to this often covered tune and it came out great! Also watch "
Lady Gaga - Paparazzi - Music Video Cover
" which features Tiffany acting and singing a very professional version of this hit song. Tiffany says in the description, "I decided to do something a little different this time, and make a music video. I had a blast creating it. Please enjoy my 10+ hours of editing. Haha"
Here is a very well made music video for the new song, iCandi, by
Whitney Raenan
. The song is upbeat and fun and the acting and editing is very well done. You can buy it on
iTunes
; I did and I love it! This is our
Featured Video
this week on the YouTube
Top 100 Weekly Chart
. Enjoy!
Megan Nicole
plays guitar and sings so sweetly in this nice cover of the hit song "Baby" by YouTubeStar Justin Beiber. I'm very impressed with Megan's singing - she even does the Ludacris rap perfectly. It's great! Megan made the video "Embedding disabled by request" so click the pic below to watch it on YouTube.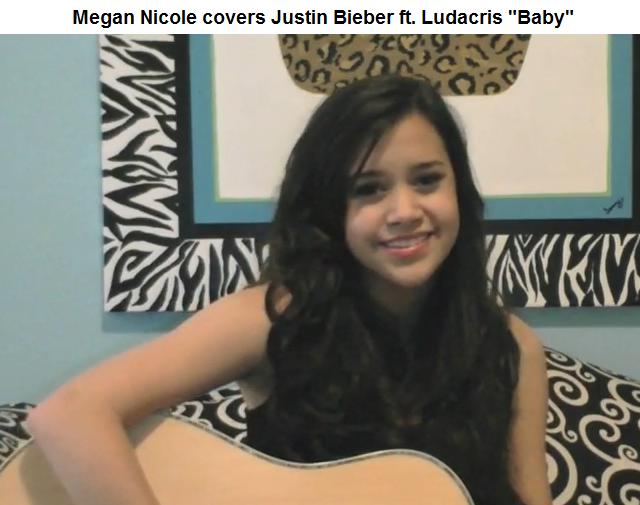 Talented UK singer
Rebecca Shearing
teams up with buddy Laurie McIntosh on guitar to sing a duet of their cool original song, "Julia". Watch, you'll love it! Also watch their AWESOME cover of "
Rude Boy
" by Rihanna.
Labels: bexboop878, cutiemish, megannicolesite, renetto, TiffanyJoAllen, whitneyraenan, wired
Wednesday, March 17, 2010
Christians and Atheists
I am glad that I live in the USA where people are free to express their opinions. We often take this freedom for granted. But when we see what happens in other countries,
like Iran
, when people try to speak freely, we have to realize that we are lucky to live in a free country.
Where people are free to speak their mind, there will be differences of opinion. There is an ongoing discussion on YouTube between people of faith who believe in God and the Bible, and atheists who don't believe in a god who created the universe and listens to everyone's prayers.
Here are a few videos by believers and non-believers. Join in the conversation by commenting on these videos, but do so with respect for the opinion of others.
christoferL
makes several Christian videos each week and has over 1500 subscribers. In this video, he talks about his childhood, and Santa and the Easter Bunny. Then he talks about how he got into the occult in his late teens. The story continues with Chris talking about music, wrestling and how he began to read the Bible. His story concludes with his encounter with an ill kitten, that lead to faith.
VioletKitty411
has been on YouTube almost as long as I have. She has over 3600 subscribers. Her profile says, "Practicing Random Kindness and Senseless Acts of Beauty. I am broken. In my weakness, I'm made strong. I must decrease so Christ can increase. I'm a Christian, and I'm not ashamed of the Gospel of Christ." In this video, she responds to
ThunderF00t
's three-part series (Part one,
here
) on a Beginner's Guide to the Bible. VK talks about evidence and logic, and gives an example on why it can't always be relied upon, based on her own anecdotal story of how she was treated by several doctors for symptoms she recently had.
VioletKitty411 has decided to set this video to "Embedding disabled by request" but you can watch the video in my Favorites List by clicking the thumbnail picture to the left.
Dude4Reason
has only uploaded 4 videos but I find them to be very interesting. This video is an intellectual exposition on the philosophical topics of Knowledge, Jusitification, and Belief. He talks about how we are able to know anything at all, and how this subject known as
Epistomology
has progressed over the years. This is a good video for deep thinkers.
In this video titled "The Problem of Faith" which is part of the "Logic of Religion" series,
cdk007
talks about Faith, which he defines as belief in something for which there is no evidence. His begins by quoting from
Matthew 17:20
, "...if you have faith as small as a mustard seed, you can say to this mountain, 'Move from here to there' and it will move." cdk007 says that you need to have faith that the mountain moved because your eyes will clearly tell you that it hasn't. He continues by providing a thought experiment which he claims indicates that almost no one has faith, despite the infinite reward awaiting those who believe they will get it if they follow the rules of the Bible. The conversation continues in the over 1000 comments. See other cdk007 videos for evidence for evolution and an "old" Earth.
Finally, watch this video by
GIIVideo
which has 3.5 Million views and over 80 thousand comments. It says that Christians believe that God answers prayer with a Yes, No or Maybe answer. He explains that a milk jug could be prayed to, and if we are told the jug gives the same answers, there is no way to tell the milk jug from God. With the Yes, No and Maybe answers to prayer, any and all outcomes can be attributed to praying, which provides no conclusions as to the validity of prayer.
Labels: atheism, cdk007, christoferL, faith, GIIVideo, God, religion, violetkitty411
Thursday, March 04, 2010
YouTubers old and new
Four unrelated videos for you all to view. Two from old time YouTubers and two from newer members...
Michelle Waugh is a talented 15 year old singer / songwriter. She sings and plays guitar in almost 50 uploaded videos. Most are covers but she also has some great originals. Listen to this cool song and also watch the excellent one I chose as this week's Featured Video over at our
YouTube Top 100 Weekly Chart
.
Kelsey Robinson is 17 years old and she loves music. She is a very good singer who makes music videos along with the occasional vlog like this one that I really enjoyed. She even made a very nice short
comedy sketch
about an incident in her math class. Also watch Kelsey's latest video from 2/25/2010 where she sings and plays piano on her nice original song called "
Tanner
", which starts at 1:34 after Kelsey catches us up on what she's been doing.
Paul Robinett has been uploading videos to his
Renetto
channel for 4 years as of March 5th. We have written about his insightful and entertaining videos many times over the years. Paul even joined up with vlogger
Tom (tlg847)
to make their own video site for vloggers called
VloggerHeads
. Check it out, its a thriving community that has been around since the summer of 2008. I wrote about its early days,
here
. Watch this short thought provoking blog about life and what drives us.
When I first came to YouTube 5 years ago, I was looking for Goth videos. I found two homemade videos that I liked (
this one
and
this one
) and then I started coming back to YouTube regularly. I soon found
LittleLoca
who was among the Most Subscribed at the time. We all later found out that this was a character played by Stevie Ryan. Stevie also created the "TheRealParis" channel and that is where this fun Goth music video is posted. Enjoy!
Labels: KelseyOfficial, LittleLoca, MichelleWMusic, renetto, Stevie Ryan
YouTube™ is a trademark of YouTube, LLC. YouTube Stars and YouTube are not affiliated in any way.