Monday, November 22, 2010
Sexy Spoofs from Zuzandra at fresh4ever2000

Hello, lovers of YouTube videos! Today I will tell you about a fairly new YouTube channel which I predict will quickly rise in popularity. The channel is
fresh4ever2000
and is owned by the team of Sandra and Marcel. Sandra makes sexy, funny high quality spoof videos using the persona of Zuzandra - a satirical play on her own name combined with Zuzana, the fitness and cooking star of the popular
charliejames1975
channel. While Zuzana is cute, sexy and fit, Zuzandra is all that and more! She has a great sense of humor and a charming personality. I know this from her videos and also from a few emails and Skype chats.
Marcel is the cameraman, editor and occasional male supporting actor in Zuzandra's videos. He can be seen in "Hyper Sexy Serious Booty Workout Spoof" which is their most watched video and was
previously featured
on our
Top 100 Chart
. Marcel captures Sandra's beauty and bubbly personality and presents it in a professional and visually attractive manner. Look what he was able to put together in the multi-Sandra collage scene in the "The Subscribe Dance" video, below.
Sandra and Marcel are fans of YouTube. They take inspiration from other YouTube channels both big and small. If they like someone on YouTube, they will do their own form of tribute to that person by spoofing their videos! The Zuzandra character is based on
Zuzana Light
from
BodyRock.TV
and the
charliejames1975
channel which is
number 146
on this week's
Top 200 Chart
. Sandra likes Marina Orlova and made a video response to one of her
HotForWords
(
number 88
this week) videos titled "Re: What I like to do in bed! i'm both a librocubicularist and a videocubiculularist" which is the
Featured Video
this Week on our
Top 100
and
Top 200
Charts. In the new "The Subscribe Dance" video, Sandra pays tribute to
MysteryGuitarMan
(
number 6
this week) by dancing with many clones of herself to a song she found on the lesser known
ZrKappa channel
.
Sandra and Marcel want you to know that they are coming out with New Sexy Spoof Videos very soon! It takes them a while to make each video because they like to put out very high quality movies with sexy funny stories and awesome editing. I'm sure I'll be writing about this channel again in the future!
Here are 4 fun and sexy videos from Sandra / Zuzandra on the
Fresh4ever2000
channel.

Another YouTube channel that Sandra loves is the
BlendTec
"Will It Blend? channel, so naturally Sandra and Marcel put together a funny and sexy spoof of their videos! Zuzandra tries to blend her new iPhone 4 but after a shattering accident, she resorts to trying to "bend" the phone. After working up a sweat from the physical exertion of trying to bend the iPhone 4, she decides to cool off by removing her white lab coat, revealing a cute purple and white bikini. YouTube deemed the video to be too sexy, so now you must be 18 or over to view this video on YouTube. But you can watch it here and judge for yourself if this video deserves to be flagged!
August 6th of this year is when it all began. Sandra and Marcel made their first sexy spoof in tribute to Zuzana. Zuzana does cooking videos as well as workout ones, so Zuzandra decided to show us how to make one of Zuzana's tasty and healthy snacks wearing the same sexy attire and with a few similar moaning sound effects! Sandra and her snack are both very good looking!
Here's another sexy cooking video! Zuzandra makes a healthy salad from lettuce, shrimp, rice and other healthy ingredients. Be sure to visit
Zuzandra's Adventures
, her website and blog, to see the recipe for this salad and to keep up with what she is up to. You can also follow her on Twitter,
@Zuzandra
.
We close with the latest effort from Sandra and Marcel which just came out last week. Sandra found an original song in a video by
ZrKappa
and couldn't get the catchy tune out of her head. So she contacted Alexandar and asked if she could remix his video, editing herself in dancing to the tune, and of course he was happy to let her do that! The resulting video features 18 video clips edited together as we see multiple Zuzandras dancing on a bridge. Marcel put in a lot of effort and did a great job editing this one! Watch, and SUBSCRIBE!!!
Fresh4ever2000 Trivia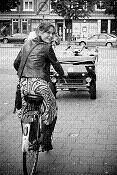 As Zuzandra, Sandra puts on a Russian / Eastern European accent to parody Zuzana's voice, but she is really from Amsterdam, The Netherlands.
At the beginning of her Sexy Booty Workout Spoof, Zuzandra mentions Poo Poo Pineaple brand workout pants. This is a spoof on Zuzana's comment about her pants from LuluLemon!
Zuzandra takes pictures of her Tasty Snack using a sweet looking camera. Sandra has excellent photographic equipment because she went to school for photography and has been in exhibitions all over the world!
Labels: charliejames1975, fresh4ever2000, hotforwords, MysteryGuitarMan, parody, satire, spoof, Zuzandra
Wednesday, November 17, 2010
Ubeea Sponsors Tennessee YouTube Gathering
This past weekend,
Ubeea
sponsored a trip for a few dozen YouTubers to hang out in a cabin in the
Great Smokie Mountains
of Tennessee. YouTubers Boh3m3, CharlesTrippy, TheTimTracker, themightythor1212, DannaRichards, ScottKinmartinTV and many others enjoyed Indoor Skydiving, Go Karting, Zorb Globe Riding, and various other group events. Some of the highlights of the weekend are shown in the embedded videos below.
What is Ubeea?
It's a new video website similar to YouTube, but so much more. Ubeea produces shows for the internet and soon for TV that are partly cast members and partly videoclips sent in by viewers. According to the
website
's description: "Totally Interactive Television is Here! Ubeea brings original TV programs created by viewers involvement direct to your computer and your television. Its a really new television experience."
I've been doing a lot of research into Ubeea lately,
so if you have any questions about what they are doing and the benefits of getting involved with them, please
email me
!
Ben (
Boh3m3
) shows us cabin porch and takes us to the Indoor Skydiving Event. The video ends with a song by Danna Richards, custom made for this event. Danna plays guitar and is writing/recording and posting one song a day for a year - follow her progress on her
blog
and
YouTube channel
. Enjoy the video, but as always with Boh3m3, if you're easily offended by language, don't watch!
TheTimTracker
and TheJennTracker show us the group's fun times with Indoor Skydiving and Go Karting!
Here's is
Danna
's "Let's Go Viral" original song, which you saw at the end of Boh3m3's video. But this time you'll see the lyrics, and the camera pans to each tripper as they are mentioned in the tune. Catchy song; enjoy!
See more Ubeea related videos,
here
and
here
.
Labels: Boh3m3, DannaRichards, TheTimTracker, Ubeea, YouTube, YouTube Gathering
Monday, November 08, 2010
Father and Daughter Musicians
It's always nice when families get along. Doing things together helps to create a strong bond. Memories are made that will last a lifetime. Especially when there's a video to look back upon in years to come!
Here are 5 videos of talented fathers and daughters making music together. In each case, the daughter sings while the father accompanies her on guitar. Enjoy all of these awesome father/daughter music videos!
Christina Amato and her "daddy"
Krista Nicole and her dad
Jes Loren and her dad
Chloe Wilders with her dad's band
Rachel Lee Williams and her dad
Labels: anitsirhcmarie, ChloeW13, KristaHeartzuz, rachelleewilliams, surfhouse
YouTube™ is a trademark of YouTube, LLC. YouTube Stars and YouTube are not affiliated in any way.