Monday, May 25, 2009
Sex on YouTube - Porn Attack and Malspam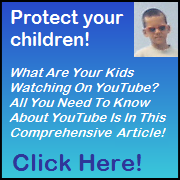 Last year I wrote an article about
Sex on YouTube
to warn parents about how easily their children could stumble upon things on the popular video sharing site that they probably wouldn't want them to see.
This article
continues to be one of the most popular articles on the
LookingForClues
article collection
website
. Here is an urgent update to warn everyone about the kinds of things that can be found on YouTube today, based on news reports that came out this
Memorial Day
weekend.
YouTube is the most popular and largest video sharing website, and Google, the site's owner, does a very good job of keeping the site free from porn. But it's not perfect. With over 20 hours of video uploaded to YouTube every minute, it is impossible to screen it all for objectionable content. There is a certain amount of automatic screening based on video titles, descriptions and tags. But many videos make it though this filter. So YouTube relies on its members to flag unacceptable videos. But this process of member flagging and manual review by YouTube employees takes time.
Over the last few days, there have been several news reports about a "Porn Hack" attack carried out against YouTube. A group called 4Chan which runs an image-sharing message board uploaded what may number in the thousands of videos that begin as harmless music videos which soon cut to scenes of nudity and group sex. The titles, descriptions and tags indicate that the videos are of popular recording artists such as Hannah Montana and the Jonas Brothers. If a visitor clicks on one of these videos, they see the beginning of a music video by one of these musicians who are popular with young people. Soon the content changes to adults participating in group sex acts, according to the BBC.
YouTube is aware of the problem but is only able to address it through their flagging system. It may take days or even weeks to remove all of the offending material. Let this be a reminder to parents that YouTube does contain some material that is not suitable for children!
For more information,
see this news story
.
As I have stated, YouTube generally does a good job of keeping porn off it's site. But there are a lot of videos which are nearly porn and are used to advertise for sex sites of all kinds. If a person searches YouTube using keywords such as kinky, porn, sex, and girl, they may encounter comments under the resulting videos which contain "Malspam." Malspam is malicious spam which consists of a link to a website that attempts to infect the visitor's computer with viruses. It has been reported that over 30,000 videos on YouTube have links to these kinds of sites in their comments! Do not download any programs from links on YouTube. You may end up with an infected computer.
Another type of download appears to be a real anti-vrus program. One of the most common malspam links on YouTube points to a site where visitors are advised to download a program called PrivacyCenter (read more about it,
here
). This is a fake anti-virus program that tells the user that they have many viruses on their computer even if they have no viruses. It then tells the user the problems will be fixed if they buy the premium version of the application. Do NOT download this fake program; all it gets rid of is your money!
For more information,
see this new story
.
Beware of any links you may encounter in the comments to any video. And be sure to warn your children not to go to any websites mentioned in comments on YouTube. Enjoy watching the many interesting and entertaining videos on YouTube (like the ones we talk about on this blog) but be careful if you let your children go on this popular website. You never know what they may end up watching!
Labels: attack, children, comments, nudity, porn, scam, sex, virus, YouTube
Friday, May 15, 2009
People Helping People
We all know that YouTube has its share of self-serving attention whores and obnoxious rude haters, but there are plenty of good people there too! Let's have a look at some of the good things happening on YouTube. Here is just a small sample of people helping people.
But first,
The News!
We've been writing about current and future YouTubeStars for Three Years now! A lot has changed. Many of the popular people from YouTube's early days aren't even on the site anymore. But there are always new and interesting people coming along to keep us intrigued and entertained. We have written about many of the up and coming musicians on YouTube, and there is a channel that has been interviewing many of the people that we have written about. I'm referring to
YouTraxTV
. Michael Boyce does a great job of regularly interviewing YouTube musicians and puts the resulting videos on his website,
youtrax.tv
. These are in depth interviews often lasting 10 minutes and more! He has interviewed people we have written about, like
TiffanyJoAllen
,
AngelicaV1
,
KristaHeartzuz
and
SavannahSings
.
YouTraxTV supports and promotes YouTube Musicians just like us.
Support YouTraxTV by Subscribing to their channel!
Angelica Vasilcov,
AngelicaV1
(
5,270,911 Video Views
), is doing very well in the
MusicMogul
contest! Her "
Superwoman by Alicia Keys
" Is in the 4 Top Rated videos. The top 4 highest rated performers get to compete on the world-famous Sunset Strip in front of a live panel of experts from all areas of the music industry, including Grammy-winning producer, Rodney "Darkchild" Jerkins. The winner of the live competition will receive a demo deal with Darkchild Productions.
Register at MusicMogul
and vote for Angelica! For more info,
watch this video
.
Celeste Kellogg,
CelesteMusic5
(
136,997 Video Views
), is in the upcoming movie - "Much Ado About Middle School." Watch the trailer on her
MySpace page
. Celeste tells me, "There were two lead roles and I had one of them and their are about 6 musical numbers in the movie. I also recorded 5 songs on the soundtrack --- I had a blast --- For more information you can go to
http://www.elevatingentertainment.com/
. They will release updates on the movie." Now in post-production, the movie also has its own
website
. Looks like a pretty cool movie, congrats Celeste!
And now, watch these videos!
ShaneDawsonTV
(
17,746,076 Video Views
), who moved up 5 positions to number 42 last week on our
Top 100 Chart
, has a vlog channel where he posts "behind the scenes videos and some special extras." This rising YouTubeStar is using his popularity to help other talented but lesser known YouTubers become the next YouTubeStar! Shane made this video showing some of the people he likes on YouTube, and asked for commenters to suggest their favorite lesser known YouTubers. He has received about 10 Thousand comments so far. Even better, he requested video responses, asking people to showcase their best stuff. So far, he as about 5000 video responses. Check some of them out!
ARE YOU THE NEXT *YOUTUBE STAR*?!
Watch this video on YouTube
---
Made by:
ShaneDawsonTV2
Rating: 4.87
Views: 216761
Comments: 9772
Category: Comedy
---
Description:
SUBSCRIBE PLEASE!!!! :) & leave a comment tellin me who you think is the next big thing on youtube!
GO SUB TO THESE PEOPLE TOO!
http://www.youtube.com/timaya
http://www.youtube.com/mytoecold
CONNECT WITH ME!
Main Channel
http://www.youtube.com/shanedawsontv
Myspace
http://www.myspace.com/shaneyaw
Facebook
http://www.facebook.com/pages/Shane-Dawson/71248814725
Twitter
http://www.twitter.com/shanedawson
Merch
http://www.shanedawson.spreadshirt.com
Call Me!
562 606 1512
SamProof
is taking over the Battle of the YouTube NonStars, originally produced by
JenLuv37
. Nominations for Season 3 are closed after Sam got loads of response to the contest following this video being Featured on YouTube. Check it out and vote when the Battle begins. For more info, visit Sam's
Failpire site
.
Battle of the Youtube Nonstars 3 - Nominations Closed
Watch this video on YouTube
---
Made by:
SamProof
Rating: 4.07
Views: 33704
Comments: 223
Category: People & Blogs
---
Description:
Check out
http://failpire.ning.com/page/micro-nonstars (a special event for the 24 nominees with the least subscribers who have original videos up)
Thank you all for your nominations.
I never expected youtube to feature this, and I've gotten in 24 hours enough nominations to run about 20 of these.
Nominations are officially closed at this point. (9pm pst, May 7th) I'm adding all the nominations to a list at:
http://failpire.ning.com/page/nonstars-3-nominations-list
Please spread the word - give lesser known tubers a chance to shine!
Check out the previous Nonstar episodes at
http://www.youtube.com/user/jenluv37
For more information check out the nonstars section on
http://failpire.ning.com
keep an eye on my stickam as well.
I'll be doing live portions of the event there
http://stickam.com/samproof
Julia,
thefalsetruths
, is shaving her head for a
children's cancer charity
. She has already surpassed her goal of raising $1000 with the help of SxePhil who mentioned her on one of his
videos
, at 2:30. She her
original video
and her
update video
on this charity event. Now here is Julia doing a fun video in which she sings into a hairbrush, enjoy!!!
Jenny And Jonny
Here's an update from Cara/Crystal on the
CaraOfficialpage
channel. She helped us by mentioning our
Top 100 Chart
and now I'm helping her by showing this video! Be sure to check out her excellent and very catchy music video for her Original Song,
Frozen Heart
, I love it!
Latest News, Video Blog from Cara/Crystal
Watch this video on YouTube
---
Made by:
CaraOfficialpage
Rating: 5.00
Views: 65
Comments: 2
Category: People & Blogs
---
Description:
Heya!
I haven't posted a video for such a long time, that's why i decided to make a blog vid, to let you now what's going on...
special thanks to Kenny from Youtubestars!!
and bless you Mahmoud!! (MzO)
check it out:
www.crystalhope.npage.at
*The Fabulous Life*
Labels: caraofficialpage, celestemusic5, KristaHeartzuz, samproof, savannahsings, shanedawsontv, sxephil, thefalsetruths, TiffanyJoAllen, youtraxtv
Wednesday, May 06, 2009
Little Kids with Dance Moves!
Here's another post written by guest poster Jennifer Arthur. She talks about 5 fun videos featuring little kids dancing their hearts out! These cute little kids are sure to put a smile on your face. Watch these videos with the whole family, but as always, watch out for inappropriate comments that might appear under the videos and don't click on other videos at random with little kids watching - you never know what they might see on YouTube. Its not always a safe place for young kids, so parents, beware! For more, read my popular article -
Sex on YouTube, a Parent's Guide
. It's the second most popular article on
LookingForClues
this week!
First,
the News
!
Two items related to our friend SamProof. Sam is about to begin work on the Third Battle of the YouTube Non-Stars which was originally produced by Jenluv37. See our
post on the original Battle
. A non-star is defined as an active member of the YouTube community who currently has less than 1000 subscribers. Get over to
this video
to learn more, and to nominate your favorite non-stars!
This week, we
featured an excellent video
by Sam on our
Weekly Top 100 Chart
. It's on Sam's channel but its not really about Sam! It's about Julia, a young lady who is thinking about others as she becomes part of a charity event. Julia is taking sponsorship donations for an event in which she will shave her head to show support for children with cancer. Please consider helping her out! Watch the video on our Chart and then go to the charity page and make a donation:
http://www.stbaldricks.org/participants/shavee_info.php?ParticipantKey=2009-356979
While visitng out
Chart
, notice that failblog continues its rise by moving from #35 last week up 5 to the #30 spot. People seem to love watching things go wrong in a funny or embarrassing way! ShaneDawsonTV, the teen male sketch comedy star, jumps 4 spots to pass huluDotCom and BarackObamadotcom! More Fail on the move as JeepersMedia and their Fail Toys jump 7 to #70. And they have only been in the Top 100 for 4 weeks! Going the other way,
DaxFlame
drops 3 to #95. It's been a while since he's made any crazy videos. Come back, Dax!
And now, Dancing Kids!
Little Kids with Moves!
By Jennifer Arthur
If you have not seen the cool little kids dancing to Low by Flo Rida yet, you are in for a treat. As one who cannot dance her way out of a brown paper bag, I truly appreciate others with such skills. However, when it's a child with moves that make the rest of us envious, it's even better! This little boy and girl definitely put me to shame as they shake their groove thang. Their energy and love for the song are evident as they get Low Low Low.
Dance moves that rock! Low Low Low by Flo Rida
Now, I realize that the Soulja Boy dance moves are not really that difficult. But I never even got the hang of the Monorail, so I'm lost in regard to this latest craze. Yet, these adorable kids not only have the dance memorized—they also have themselves blocked correctly so they can all be seen on the video cam. These Soulja Boy dancers have definitely worked it out and coordinated their routine with each other like true little professionals.
CRANK DAT SOULJA BOY
Watch this video on YouTube
---
Made by:
hottgurlinaz
Rating: 4.53
Views: 3927665
Comments: 6477
Category: Music
---
Description:
HOW WE CRANK DAT SOULJA BOY IN AZ, THANX MOOKIE... we shot this video for fun before they even really knew how to do the whole dance
The great thing about kids is their total lack of inhibitions. They have no concept of being "good" or "bad" dancers. They simply feel the music and want to move. Which is what I love about these two kids. Clearly not the coolest kids on the dance floor, and yet, they are having a blast! It's impossible not to feel their enthusiasm and it reminds me of my early days spent with my little brother, dancing around the family living room. I'm sure we looked nerdy, but we didn't care!
Dancing Kids are Funny
Watch this video on YouTube
---
Made by:
muveedad
Rating: 4.27
Views: 108364
Comments: 119
Category: Comedy
---
Description:
Candid video starring Jaden and Jakob dancing their hearts out. Note the contrasting styles.
I'm not a huge fan of techno music, although I've been to a club or two in my day. But ravers have got nothing on these two little boys! The first little tyke just can't help himself. He's not even 2 yet watch how much he gets into the music! And the second young man is going to break some hearts in a few years. He has no problem showing off his style, and I don't blame him. If I could dance like him, or any of these kids, I'd be putting myself on YouTube as well!
1 Year old kid dance to techno / hardstyle
Techno Kid
Watch this video on YouTube
---
Made by:
GoldHc
Rating: 4.44
Views: 82202
Comments: 330
Category: Music
---
Description:
www.planet-fora.de.vu (neue Community sucht aktive Member und MODs!)
YouTube™ is a trademark of YouTube, LLC. YouTube Stars and YouTube are not affiliated in any way.