Sunday, October 25, 2015
Here's a little video from FaceBook! This is aimed at girls, but really it's something that could benefit anyone. This is a valuable way to spend 4 minutes of your life. Watch this short video and implement the suggestions, and your confidence will improve!
The three points are:
1. Know that you have choices. Choose to think of yourself as a winner, stand up straight and smile. You can do this!
2. Know that you can improve! Whatever your abilities are now, they can get better through study and practice, it just takes some time!
3. Know that you will sometimes fail, and that's okay! Things that give the most confidence take time to achieve, and each failure is something to learn from, which will bring you one step closer to success!
Now watch the video because it goes into more details, and in different words than my summary above. Best wishes in all you do!
3 tips to boost your confidence

Happy #InternationalDayoftheGirl! To celebrate the occasion, check out this lesson on confidence we made in partnership with the Always #LikeAGirl campaign:

Posted by TED-Ed on Sunday, October 11, 2015
Labels: confidence, education, girls, success, TED
Friday, October 23, 2015
What can we learn from the Ashley VanPevenage meme explosion? Earlier this month, there was a lot of coverage in the media about Ashley VanPevenage, a 20 year old college student from Tacoma Washington, who was the model in a "before and after" makeup picture posted by the woman who applied her makeup; makeup artist Andreigha Wazny. It is said that Ashley had some allergic reaction to benzoyl, and this makeup concealed its affects. The "before and after" picture was posted by Andreigha on her Instagram account, where it was shared on many social media sites.
It was the accompanying captions and comments that caused controversy. One wondered how such a stunning transformation was achieved for Ashley when the commenter herself could not cover one pimple successfully. Another was rather hurtful to Ashley:
For more on this story, let's watch Ashley herself, interviewed on a recent segment of a show called Girl Code Live on MTV. The discussion continues in the comments, and some males seem to be claiming a form of "false advertising" in which they state that they would become upset if they had some sort of a relationship with a female who wore makeup and then found out that they were covering something up.
Ashley VanPevenage has also made her own YouTube account, and she made a response video there, to express her feelings. She was surprised to find that a picture featuring her face had gone viral and become a meme. Ashley lost her confidence, but then she came to the conclusion that people's opinions really don't matter -- the only thing that really matters is who you are. She ends by hoping that people dealing with acne can feel confident about who they are. Here is Ashley VanPevenage's response video:
This entire episode reminds us of some of the things we have covered here in the past. Guest blogger Emma reminded us that perfection does not exist, and discussed the brave stories of three woman, one who also had an acne issue. We also had extensive coverage on Rebecca Black and the meme that developed around her song and video "Friday". She became one of the most recognized, and despised, persons on the net, at the age of just 13!
For those interested in reading more about relationships and makeup, we offer links to 2 excellent articles on these subjects. This article talks about the difference between true love and obsession, stating that "There is a tremendous difference between real, true love and unhealthy obsession or fixation." True love should be effortless in that you enjoy being with the person rather than needing to be with them. However, "When you're fixated on someone, it feels more like you're suffocating. It feels like you need them… like you must have them treat you a certain way, give you a certain relationship title, or somehow prove their commitment to you. You feel like until you have this, you are not OK and will not be OK."
Back to the topic of makeup and why girls wear it, here is an excellent article that goes into great detail on the subject. It talks about why women may wear makeup from the viewpoint of evolutionary psychology as well as from current social pressures. The article concludes, "Why do women wear makeup? You could say it's a pinch of patriarchy, a dusting of sex, a smattering of fun, and a whole, caked-on layer of misplaced insecurity." it is worth reading the entire article!
Now that several weeks have gone by, what is Ashley VanPevenage doing now? She is out living her life! She has become less concerned about what anyone thinks about her appearance and is comfortable traveling around town without makeup. She recently posted the following video. All we can advise is, be careful when videoing and driving as you may run over something! Of course Ashley was not operating the recording device, her friend did that. Smart plan! So this video is titled "VLOG 1 - Out shopping with friend, also get scared to death!" and therefore we can assume that Ashley VanPevenage will be vlogging more in the future. We look forward to watching, and we wish her all the best!
Labels: acne, Ashley VanPevenage, body image, makeup, meme, MTV, relationships, self image, skin
Sunday, October 18, 2015
Today, the Carolina Panthers play the Seattle Seahawks. The Hawks have a slight advantage in the morning odds. The Panthers are undefeated, the Seahawks have more losses than wins, yet they are still favored. By the time some of you read this, the game will be history! What will happen???
Well, maybe something like what happened a few weeks ago! Cam Newton, Panther Quarter Back in the Number One Jersey, is a threat to run as well as fire a missile to an open receiver. Recently, he ran for a touchdown and wouldn't let the defender in front of him stop him! He planted his feet and leaped into the air, flying over the startled tackler, doing a mid air flip and landing on his feet in the end zone for six points! You may have seen that already, but have you heard the enthusiasm with which the Spanish language radio broadcaster covered the spectacular play? Check it out!
Labels: announcer, Cam Newton, Carolina Panthers, football, jump, leap, Panthers, quarterback, Spanish, touchdown
Saturday, October 17, 2015
Nine summers ago, sisters Meg and Dia Frampton released a video for their song "Monster" which would come to have over 2 million views in time. This alt rock tune is full of guitars and pounding drum beats, but it was the sweet pouty words of the chorus that would become immortal in the dubstep dance community:
Monster! How should I feel? Creatures lie here; looking through the window!
In the video, there is much jumping around, as someone's living room gets totally trashed! Watch and bang your head!
Four years ago, out comes the video for the DotEXE Dubstep Remix of Monster. It takes the sweet version of the chorus, not the more aggressive version from the original song, and adds adds all the dubstep accouterments that turned this into a major dance tune! The chorus gets repeated for nearly four minutes and the video views keep piling up to over 40 million! You've heard it, but listen again!
Three years ago, the Nightcore community got a hold of Monster! Nightcore music is the manipulation of an original song which speeds it up about 25%. The result is a chipmunk sound effect and it increases the calories burned as you dance to it! This version was always on the playlist this summer at the worlds best parties! Now its the Fall but it's still in my head! Monster! How should I feel? Not tired yet!
Labels: alternative, dance, dubstep, Meg and Dia, Monster, nightcore, Rock
Monday, October 05, 2015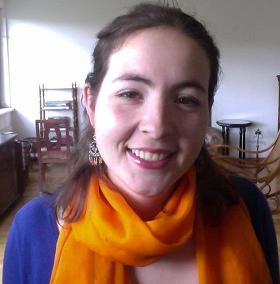 We're so happy to have a new interview from Guest blogger Anna! Earlier this year, Anna did a review of a cool fusion, progressive rock, folk band called
Profusion
. Today, Anna presents an interview with the band, The Silver Spoons! Known for their trippy 60s inspired song, Tainted Coulors, the band brings to mind pop psychedelic bands like The Beatles, Doors, Jefferson Airplane or even The Monkees!
Read more reviews by
Anna
! Check out her recent post about
The Hunger Games
!
Anna Interviews The Silver Spoons
1) Hallo Augustin, could you please introduce your band, tell us about what type of music you play, where you're from and give us a brief history of the formation of 'The Silver Spoons'?
Hi Anna, we consist of 3 siblings and a brother from another mother. We play a rather alternative rock, which started with Hal writing songs which I felt as a 15 year old were too good not be taken seriously. So I whipped my choir voice into shape, Hal began conducting on his guitar, we threw Sarah behind the drums, had our brother slapping that bass and then played our first gig within 3 months!
2) Hi Hal; could you tell our readers why you called yourselves 'The Silver Spoons,' does it have to do with the expression 'to be born with a silver spoon by any chance?
Bit of a difficult story to tell as no one quite remembers it the same way. From what I recall, Augustine came up the Silver Buckles (as in shoe buckle) and someone said the Silver Spoons, this being such a sardonic name (we were all born with a tin spoon), so we kept it. Originally we were called "Melton Constable" but no once could pronounce it or understand it (even we, when on stage, would forget it), so that was no good.
3) Sarah, in an immensely male dominated drumming world, have you met any prejudice as a female artist so far and who are your influences?
I don't know how many times I've heard "you're okay..for a girl". Though it annoyed me immensely at first I got used to the fact that men can't accept women being good at something they usually are good at themselves.
4) John, you're the only one who isn't a sibling of the other band members, what's your experience being part of the band and could you tell us about the shoot of your mental video 'tainted colours'?
My experience is nothing but awesome so far. I dont really mind being the "one who isn't a sibling". At least I don't fight with them that much hahah. And sadly I wasn't part of the band at the time of shooting the music clip for "Tainted Colours" so I can't tell much about it. Only that it really got me interested in joining the band.
5) Augustin, what inspires the lyrics to your songs and who writes them?
The majority of songs we play are written by Hal the rest by me. To write a song one must be walking the fine line between the conscious and subconscious mind, you get the same feeling when you take control in a dream. For me its like self therapy, if done correctly the outcome is from the heart, truthful and pure. That been said we get inspired by whatever happens to be on our minds at the time, which is mostly girls, ha.
6) Hal, you guys play a lot of live concerts, could you give is your favourite memory of a performance?
One of my favourite was Kuře v hodinkách (Prague) which was packed and the atmosphere was wicked. Although, we recently played Karlovy Vary and Brno and I have to say those were really good fun!
7) Sarah, what about a great memory from the tour?
One evening Augustine had mysteriously disappeared and Hal had gone to bed I was left with John and instead of being left to talk to John alone I was spoken to by all...that was my favorite moment.. Well partying with bands such as The Fellas is an insane experience, otherwise after getting off stage once we were confronted with a bunch of fans who wanted to take photos with us, autographs, and interviews. It was all quite overwhelming!
8) John, how much of what you play live is improvised?
Usually it is the few bass solos here and there and very rarely when a string goes off hahah.
9) Augustin, if you could collaborate with any musician (or band) dead or alive who would it be and why?
That's not an easy question to answer, but I guess Id have to say the Beatles in the late 60s. I love their approach to song writing and whacky lyrics.
10) Sarah, what do you think, in its essence is what ties your band together?
Of course most of the band is my family so I have a connection automatically in this way, but apart from that we all want to be a success musically and have some laughs as we try getting there. Whenever I have nothing, I always feel "oh well..I've still got the band".
11) Hal, do you guys have any rituals, before getting up on the stage?
My ritual is to worry, haha. Seriously though, we all eat a yogurt with our personally engraved silver spoon.
12) John, where do you see yourself in 10 years?
Still playing enjoying music and generally.. I just hope nothing brings me down till I reach that point of life. That's pretty much all I can see from here. I'll just wait for what the future has in store for me...
13) To all of you: What's your present state of mind?
Augustine: I'm generally very excited where the band is going. Sarah: Feel like we've moved a step further and it feels great John: I pretty much agree with Sarah. We have improved a lot in general and it can be felt with each gig we perform in. Hal: Psyched about what will come next!
Labels: alternative, Annaconda1984, Beatles, interview, Jefferson Airplane, psychedelic, Rock, The Beatles, The Doors, The Monkees, The Sliver Spoons
YouTube™ is a trademark of YouTube, LLC.
YouTubeStars and YouTube are not affiliated in any way.