Wednesday, June 22, 2016
First there was MySpace, then there was Facebook. Now, there's Steemit!
Are you on Facebook? How about Reddit? Maybe Google Plus? Are you sharing your thoughts and photos with your friends and the world? Do you get paid for this? Sure, you get to use the service for free, and that's great! But suppose you could do the same thing you are now doing on Facebook, but earn money for doing it?
On #Steemit you can #earn rewards just for sharing your thoughts or #blog! https://t.co/KsIrs0mYLj pic.twitter.com/FNyI62Ha10

— SteemServices (@SteemServices) June 9, 2016
Steemit is a brand new social network that is very similar to Facebook and Reddit. You can write posts, which can contain pictures or videos. Others comment. They can also "Like" your post and comments, by up voting them. The most up voted content rises to the top and becomes more visible.
Since Steemit is just getting started, they are encouraging new people to join, by really paying well for introduction posts. Just go there, sign up using your Facebook or Reddit account, post something interesting about yourself, use the tag #introduceyourself, include a nice eye catching picture of yourself, and watch the value of your post rise!
You will see a number under your post, showing it's estimated value in dollars. Half that amount is yours! The other half is split between up voters and commenters. The money is paid out in Steem Dollars and Steam Power. Steam Dollars are about equal to a US Dollar. You can convert Steem Dollars to Steem, Steem to Bitcoin, and Bitcoin to US Dollars. Steem Power increases the percentage of the money you get from your up voting and commenting.
I've been on Steemit for about a week now, and it's fun! I made a few posts and 2 did well. Their value is well over $1000. I have made friends there and read lots of good articles. One of the most interesting members on steemit is stellabelle. She writes interesting articles about some of the crazy things that have happened in her life. She is very random and you'll never be able to guess what she will post about next! She is also on YouTube.
If you're wondering where the money to pay the members comes from, have a look at this article on Steemit: https://steemit.com/steem/@steemrollin/steem-where-does-the-money-come-from
On July 4th, Steemit will be doing their first payout. After that, payouts happen daily. NOW is the time to get there and get the big payouts. This is like the early days of YouTube, the site is very exciting! Lots of people join every day. Welcome them, upvote their posts if you like them. As I said above, write your own intro post and get involved!
Questions? Ask in the comments or email me!
Labels: cryptocurrency, money, paid to post, social media, social network, steem, steemit
Friday, May 20, 2016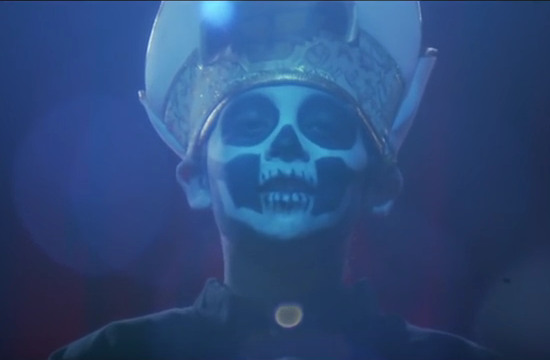 So guess who was recently at a festival in my area?
BABYMETAL
!
I recently wrote about their US television debut, performing "Gimme Chocolate!" So when they were here for Carolina Rebellion, I thought I'd check YouTube for some concert footage. In the related videos to the right, I noticed another band that was at the show, called Ghost.
Ghost (a.k.a. Ghost B.C.) is a Swedish rock/metal/doom band who are touring in promoting their third full length album, Meliora (link at left). They have something in common with BabyMetal. BabyMetal combines Metal and Thrash musical stylings with the theater presentation of J-Pop. Ghost combines the musical styles of Rock and Doom with the theatrical shock value of a Satanic Cult. All the members wear the same black robe and plastic devil face mask, and are known as Nameless Ghouls. The exception is the singer who dresses like the anti-pope and goes by the name of Papa Emeritus.
So what do they sound like? There is a definite influence of Blue Oyster Cult, KISS, Pink Floyd and Alice Cooper. They sound like BOC and Pink Floyd mixed with Black Sabbath, but they look like KISS in that their identities are hidden. They borrow from the Horror themes of Alice Cooper but dress alike like Devo.
Let's discuss and watch their Official Video for Cirice. This song won them the 2016 Grammy Award for Best Metal Performance! Here are some lyrics, to give you an idea of what it's about...
I feel your presence amongst us.
I know your soul is not tainted, Even though you've been told so.
I can feel the thunder that's breaking in your heart; I can see through the scars inside you!
You and I see eye to eye.
Now there is nothing between us. From now our merge is eternal.
Can't you see that you're lost? Can't you see that you're lost without me?
It is clear that the singer is forging a connection, a bond, with the listener. The listener is told that they are part of the group, they are understood, they are in a place where they should be. Without this in their life, they are lost. Notice that cults and, some will say, religions work to perform this psychological function in people's lives. They make them feel like part of a tight group where they are wanted and if they depart, their life will be devoid of meaning, left in Hell on Earth or perhaps eternal fires of damnation. Heavy subject matter but something to think about!
The video starts with Cirice, about 11 or 12, and her mom entering a school to watch a talent show. They were late and have to sit in the front row. Cirice looks less than interested in the acts, until Ghost comes out to play. The crowd is uncomfortable except for one couple who look slightly demonic; possibly the parents of Papa Emeritus, who is now singing directly to Cirice. She instantly feels a connection, and stands hand in hand with Papa as her mom tried to pull them apart. She succeeds but then when the MC tries to attack Papa, Cirice exhibits powers that are similar to those of movie icon
Carrie
who has a similar sounding name. All Hell breaks loose!
So is this an Award Winning Metal Performance or the work of The Devil himself? Have a look and decide for yourself!
Now if you thought that was Satanic, evil and creepily disconcerting... let's go back 50 years to the groovy 60s when the Hippies were singing about Love and Flowers. Not everyone was so happy. There was a man named Jason Crest who related his experience at a terrifying Black Mass.
Let there be light; stop these sounds! ahhhhh Black Mass-s-s-s-s-s. Heavy organ music, creepy evil lyrics and chanting, and a backwards percussion track might give you nightmares. Have a listen to "Black Mass" by Jason Crest, and ponder on whether this old slice of demonic horror from the swingin' 60s outdoes the new Satanic Ghost band or not!
Labels: Alice Cooper, BABYMETAL, Black Mass, Black Sabbath, Blue Oyster Cult, Carrie, Cirice, doom, Ghost, GhostBCVEVO, Jason Crest, KISS, metal, Pink Floyd, religion, Rock, Satan
Sunday, April 17, 2016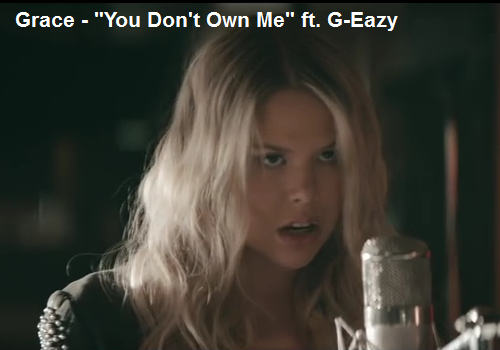 I am just starting to hear the song, "You Don't Own Me" on the local Top 40 Hits radio station. I am familiar with this tune and I wonder how many others know that it is a remake of a hit song originally released over 50 years ago! Here is the story of "You Don't Own Me!"
Almost 70 years ago to the day, Lesley Sue Goldstein was born in the New York City borough of Brooklyn. When she was just a junior in High School, using the stage name of Leslie Gore, she reached the top spot of the music charts with her first song, "It's My Party." After a few more hits, Leslie Gore was offered a proto-femenist song called, "You Don't Own Me." Leslie recorded the song when she was 17. In February 1964, the song shot to the top of the pops, stalling at number 2, being blocked from the #1 spot by The Beatles song, "I Wanna Hold Your Hand."
"Don't tell me what to do! Don't tell me what to say! And please, when I go out with you, don't put me on display!"
"'Cause you don't own me; don't try to change me in any way! You don't own me; don't tie me down 'cause I'd never stay!"
"I'm young, and I love to be young; I'm free and I love to be free! To live my life the way that I want; to say and do whatever I please!"
The music is in 3/4 time, a waltz basically. Instrumentation is strings with bass and drums, with lots of reverb. Leslie Gore's vocals float above the music. She has a wistful singing style in parts of this song, but she sounds strong, determined and self confident in other parts.
The producer of this record was none other than the well known music man, Quincy Jones! Quincy Jones is known for having worked with many famous musical names, from Frank Sinatra to Michael Jackson. Quincy Jones must have had this song in his mind for many many years, because last year, he worked with another young female singer to remake it! But first, here is the original song, You Don't Own Me, by Leslie Gore.
If you were not familiar with the original version, having only heard the new remake that is out today, you may be surprised to hear how closely the remake tracks the original. One possible reason for that is... Both songs were recorded and produced under the musical supervision of Quincy Jones! Leslie Gore passed away last year, and when Quincy Jones heard Australian singer Grace's voice, he felt that she should record a new version of "You Don't Own Me" as a tribute to Leslie Gore.
Grace Sewell is a young Australian singer who grew up listening to music from the 1960s. In 2015, at the age of 17, she began to record tracks with Quincy Jones. One was this remake of "You Don't Own Me," and it was released in March and the video came out in June. The song immediately shot to the top of the Australian charts. But it only began to hit in America after Grace began to promote her upcoming EP in early 2016, including an
appearance in January 2016 on Live with Kelly and Michael
, where she sang You Don't Own Me, almost identical to the original, without the rap parts in the radio version.
Currently, the official video for the Grace cover of You Don't Own Me has 30 MILLION views! The song is in the top 30 on the American charts, surely destined to become a major hit, and a great debut for Grace! Here now, is the new cover of You Don't Own Me, originally by Leslie Gore, now by Grace, featuring G-Eazy.
Labels: 1960s, Grace, Grace Sewell, Leslie Gore, music, music video, oldies, pop, Quincy Jones, rap, remake, You Don't Own Me
Friday, April 08, 2016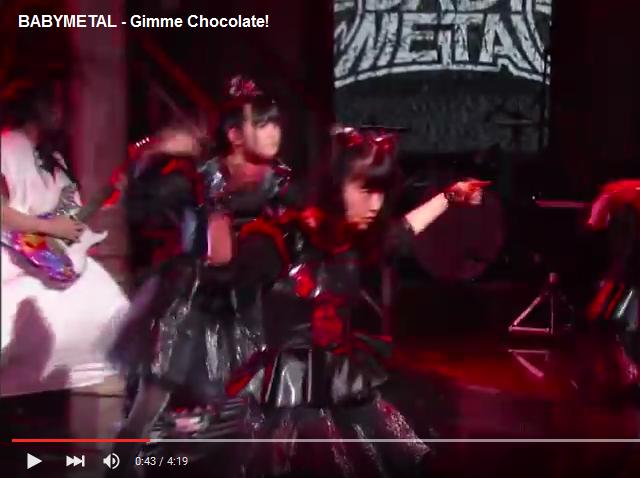 A few nights ago, a rather interesting band was on The Late Show with Stephen Colbert. Their name is BABYMETAL and they were making their US television debut, performing "Gimme Chocolate!" I had not heard of this band. They are metal, and yet they are also J-pop. I like metal and some J-pop but I don't know what I think of the combination in one band!
BABYMETAL was on The Late Show to promote their new album, "Metal Resistance," which just came out on April 1, 2016. Buy it from Amazon using the link at the left! This is their second album, and just entered the UK charts at number 7 -- the highest entry by a Japanese band ever. Their first is self titled and is from 2014. The band consists of three girls who sing and dance in somewhat typical J-pop fashion. Su_metal is 18 while Yuimetal and Moametal are just 16. Backing them is a speed/thrash metal band called the Kami Band, although they have also performed with members of
DragonForce
.
So what do they sound like? This is a rather strange mix, in my opinion! Even Stephen Colbert was perplexed when he introduced them, saying, "I'm not sure what I'm about to see!" The performance of "Gimme Chocolate! begins with a rather typical heavy metal sound -- fast loud guitars, drums at double speed. But in front are these three young girls in black and red mini-dresses and tights doing dance moves combining Sumo wrestling, J-pop dance and Gene Simmons from KISS. The 4 piece band, dressed in white robes with white face makeup, is headbanging and the girls are doing their thing. Then they begin to sing verse one in Japanese, consisting of rather quick vocalizations, as they continue dancing. The chorus soon appears, and it seems a bit more J-pop structured than the verse. The girls are singing something about Chocolate and they continue to dance with some finger pointing motions. This is followed by an instrumental break that sounds like the fast part of Welcome Home Sanitarium by Metallica. Another verse if followed by an interesting guitar solo, followed by another short verse and the chorus, with some ending ba-ba-ba-ba singing. The crowd goes wild and Colbert greets them with their new album Metal Resistance in hand, as one of the girls says Thank You!
I have to admit, as I watch this again and again, it is starting to grow on me! Have a look for yourself!
Now if you thought that was a bit odd or strange or something you never heard before... let's go back 50 years to the Group Sounds days in Japan when everyone loved The Beatles and the new sounds coming from the UK and US. One of the bigger rock bands in Japan at that time was The Mops. Perhaps they got their name from the Beatles nickname, the four mop tops, referring to their hair style.
The Mops had a song called Blind Bird. It is fairly slow and plodding, with a fuzzy guitar and bass and very little drums during the verses. The singer is singing Japanese lyrics. The song is kind of cool if you like
60s Garage Rock
like I do. The very strange and disturbing part comes in the chorus, when the only words in English are sung. The English words are, "Please Kill Me!" I suppose if you are a Blind Bird, you might feel that way. Life can't be good.
Have a listen to "Blind Bird" by The Mops, and ponder on whether this old slice of strangeness from Japan outdoes the new BABYMETAL band or not!
Labels: 1960s, BABYMETAL, Garage Rock, Gimme Chocolate, J-Pop, metal, speed metal, Stephen Colbert, strange, The Late Show, The Mops, thrash metal
Monday, April 04, 2016
Back to school or work after Spring Break? Need something to make you smile? Here it is! You're welcome.
When you see someone about to do something dumb and dangerous, you have to ask yourself, "What were they thinking?" Here is a collection of demented dudes doing dumb, daring, and dangerously deeds. I don't have to tell you in advance that they aren't going to end well. You can tell that right away, from the first frame of each clip.
This video may cause you to laugh hysterically! Or it may leave you shaking your head. You may recognize the song as a parody of "That's Amore" once performed by the Late funny man Dean Martin. Or you may be hearing this melody for the first time. That's okay and it doesn't make you a Moron. Try one of these stunts if that is your goal. But I don't recommend it!
Sit back and relax, and be glad its not you in these clips that include parkour fails, flip fails, bike fails, gym equipment fails, cliff jumping fails, pool jumping fails, beam walking fails, dangerous chain saw swinging, prank fails, swing fails, roof jump fails, kung fu fails, car jumping fails, and laughing animals!
That's A Moron - Parody of Dean Martin "That's Amore" by Al Mahan
Published on Jul 31, 2013. 2 million views in April 2016.
Hilarious parody set to Dean Martin's "That's Amore by Al Mahan.
Young People doing dumb, daring, and dangerously stupid stuff.
Labels: car jumping fails, flip fails, kung fu fails, laughing animals, parkour fails, pool jumping fails, prank fails, roof jump fails, swing fails
YouTube™ is a trademark of YouTube, LLC.
YouTubeStars and YouTube are not affiliated in any way.