Monday, November 07, 2016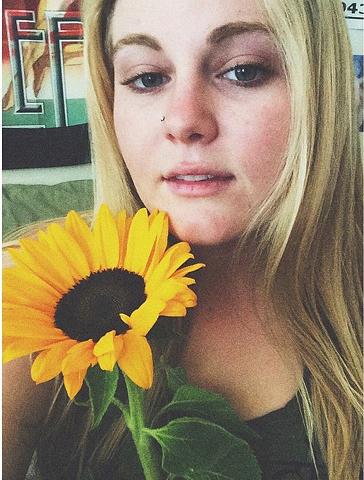 Popular Guest Blogger Emma Samuelson is back with a hot topic - Permaculture!
Emma is a recent college graduate from California who writes her own songs, sings and plays guitar. Check out the excellent music and ASL videos on
her YouTube channel
! In Emma's own words, "I am a spiritual person and I love music, listening to it, creating it, and everything about it." Her love of music is obvious in her videos!
Please use
this link
to see a list of ALL guest blog posts by
Emma Samuelson
.
Emma just started getting involved in the world of Permaculture this year. What IS Permaculture? How is it good for us and for the environment? Emma tells us what Permaculture is, and shows us 3 videos that answer the question, What is Permaculture!
A Permaculture Perspective
Beginning in April of this year, I began a journey of learning and practicing permaculture as a way of life. It turned out to be my practice of connecting back to the earth, and after living from a permaculture perspective this summer, I will never look back. As a garden intern at a hot springs community in Southern Oregon, I worked in our garden every day growing vegetables, fruit, herbs, and medicinal plants that fed and nourished our local community of residents, visitors and friends. I learned how to plant seeds, tend them as they grew, harvest and process food, as well as how to take proper care of the earth and environment around me as I did it. Not only did we study the practice of farming and gardening, but we also delved deep into permaculture design and applied it to our practices of growing food.
Permaculture, which reflects the concept of "permanent agriculture", is the conscious based design and maintenance of cultivated ecosystems. It is a solution based outlook that utilizes harmonious appropriate technologies, efficient modes of energy, and provides goods, shelter, and other needs in a sustainable way. One of the goals of permaculture is regenerative designs that honor earth care, people care and fair share of resources. In comparison to industrial farming, permaculture not only provides people with better food and resources, but also decreases environmental damage immensely... permaculture works with the earth and its soil rather than depleting its beneficial value.
What is Permaculture?
In this short documentary, Ana Sany and Jacob Redman interview countless people involved in permaculture design and practice asking them "What is Permaculture?" This is just a brief introduction to permaculture and how it can impact various people around the world. The interviewees include Pandora Thomas, a well known permaculture professor from the Bay Area, Rosemary Morrow, known as one of the pioneering women of permaculture based in Australia, and John Champagne, another pioneer of the Permaculture Movement in Australia.
Permaculture is a way of life.
As you can tell, permaculture is more than just a way of gardening, it's a way of life, it's a movement that is at the forefront of environmental science and social justice. Permaculture branches out into many different areas including agriculture, environmental science, food science, and even government and politics. In particular, I'm very excited about diving deeper into the connection between permaculture and sociology, looking at how we are as a society can benefit and grow from adopting a permanent regenerative design for gardening and farming. Starhawk, a well known writer and activist, recently did a Social Permaculture Conference along side Pandora Thomas, which a few of my friends attended. Starhawk is very influential in many different networks and has a lot to offer in the world of sustainable living and connection to the earth. In the following video, pre-conference, Starhawk discusses some of what she believes Social Permaculture is.
Permaculture restores Mother Nature.
As Starhawk said here, "permaculture is the art of designing beneficial relationships, it's a system of ethical, ecological design." I truly believe that permaculture is the way to resurrect the soil we walk upon, it is the way to restore mother nature and allow ecosystems to flourish naturally, it is the way to consciously feed our communities. There are many different Permaculture institutes and classes you can take all around the country, including courses that provide you with a full permaculture education resulting in a Permaculture Design Certificate (PDC). By getting your PDC, you can go on to pursue further education, practice and get involved in global projects to help support sustainable living and regenerative design. After getting the basics down, I am currently on the road to getting my PDC and giving back to the earth that has given so much to me.
As a twenty two year old in the technology era, I am so incredibly proud to say I can grow my own food. I can make compost, I can grow vegetables and herbs and preserve them, I can cook, I can chop wood and build fires... I can feed myself, from seed to skillet, which is a skill I will have for the rest of my life. One of the films that truly helped me to learn more and understand what having a permaculture perspective is, came out last year and is entitled INHABIT. It is an incredible documentary that interviews a variety of people, groups and communities that practice permaculture in daily life. It is a well crafted and informative documentary that changed the way I looked at agriculture and farming. I highly recommend watching it and learning more about how you can be a part of this amazing movement. Here is the trailer, just to give you a taste of how permaculture can better our world and the way we work with it.
Read more about Permaculture on Steemit.
Labels: "Emma Samuelson", Emma Samuelson, emmalane94, Food, gardening, nature, permaculture
Monday, October 31, 2016
Happy Halloween 2016! Here is some Halloween themed music videos for your spooky enjoyment!
Up first, we have a great song called "Stand By Him" a.k.a. Night Of The Witch! Joshua made a nice video to go with it, using Scooby Doo clips, and that just adds to the fun! This song is by the Swedish Rock band "Ghost" who I first wwrote about here.
Here's a Goth Classic from Type O negative, called Black Number One. The reference is to the blackest hair dye you can buy. It's about a guy who's girlfriend is a Goth who wants to go out when it's raining and blowing, but can't because her roots are showing. He says, "Loving you was like loving the dead!" Sadly, singer Peter Steele died himself at a young age. Watch the Goth Doom master in this Halloween favorite! It has 8 MILLION views!
Finally, we have a candidate for the creepiest song ever recorded! Its from shock rocker Alice Cooper, and it's "The Ballad of wight Frye." Seems Mister Frye has mental issues and has been committed to an insane asylum. He wants to get out of there. He Really wants to GET OUT! Warning!!! It's creepy!
Labels: Alice Cooper, Ballad of Dwight Frye, Black Number 1, Ghost, Halloween, Scooby Doo, Stand By Him, Type O Negative, Witch
Wednesday, June 22, 2016
First there was MySpace, then there was Facebook. Now, there's Steemit!
Are you on Facebook? How about Reddit? Maybe Google Plus? Are you sharing your thoughts and photos with your friends and the world? Do you get paid for this? Sure, you get to use the service for free, and that's great! But suppose you could do the same thing you are now doing on Facebook, but earn money for doing it?
On #Steemit you can #earn rewards just for sharing your thoughts or #blog! https://t.co/KsIrs0mYLj pic.twitter.com/FNyI62Ha10

— SteemServices (@SteemServices) June 9, 2016
Steemit is a brand new social network that is very similar to Facebook and Reddit. You can write posts, which can contain pictures or videos. Others comment. They can also "Like" your post and comments, by up voting them. The most up voted content rises to the top and becomes more visible.
Since Steemit is just getting started, they are encouraging new people to join, by really paying well for introduction posts. Just go there, sign up using your Facebook or Reddit account, post something interesting about yourself, use the tag #introduceyourself, include a nice eye catching picture of yourself, and watch the value of your post rise!
You will see a number under your post, showing it's estimated value in dollars. Half that amount is yours! The other half is split between up voters and commenters. The money is paid out in Steem Dollars and Steam Power. Steam Dollars are about equal to a US Dollar. You can convert Steem Dollars to Steem, Steem to Bitcoin, and Bitcoin to US Dollars. Steem Power increases the percentage of the money you get from your up voting and commenting.
I've been on Steemit for about a week now, and it's fun! I made a few posts and 2 did well. Their value is well over $1000. I have made friends there and read lots of good articles. One of the most interesting members on steemit is stellabelle. She writes interesting articles about some of the crazy things that have happened in her life. She is very random and you'll never be able to guess what she will post about next! She is also on YouTube.
If you're wondering where the money to pay the members comes from, have a look at this article on Steemit: https://steemit.com/steem/@steemrollin/steem-where-does-the-money-come-from
On July 4th, Steemit will be doing their first payout. After that, payouts happen daily. NOW is the time to get there and get the big payouts. This is like the early days of YouTube, the site is very exciting! Lots of people join every day. Welcome them, upvote their posts if you like them. As I said above, write your own intro post and get involved!
Questions? Ask in the comments or email me!
Labels: cryptocurrency, money, paid to post, social media, social network, steem, steemit
Friday, May 20, 2016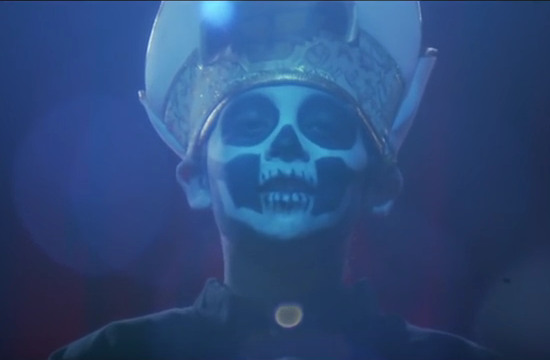 So guess who was recently at a festival in my area?
BABYMETAL
!
I recently wrote about their US television debut, performing "Gimme Chocolate!" So when they were here for Carolina Rebellion, I thought I'd check YouTube for some concert footage. In the related videos to the right, I noticed another band that was at the show, called Ghost.
Ghost (a.k.a. Ghost B.C.) is a Swedish rock/metal/doom band who are touring in promoting their third full length album, Meliora (link at left). They have something in common with BabyMetal. BabyMetal combines Metal and Thrash musical stylings with the theater presentation of J-Pop. Ghost combines the musical styles of Rock and Doom with the theatrical shock value of a Satanic Cult. All the members wear the same black robe and plastic devil face mask, and are known as Nameless Ghouls. The exception is the singer who dresses like the anti-pope and goes by the name of Papa Emeritus.
So what do they sound like? There is a definite influence of Blue Oyster Cult, KISS, Pink Floyd and Alice Cooper. They sound like BOC and Pink Floyd mixed with Black Sabbath, but they look like KISS in that their identities are hidden. They borrow from the Horror themes of Alice Cooper but dress alike like Devo.
Let's discuss and watch their Official Video for Cirice. This song won them the 2016 Grammy Award for Best Metal Performance! Here are some lyrics, to give you an idea of what it's about...
I feel your presence amongst us.
I know your soul is not tainted, Even though you've been told so.
I can feel the thunder that's breaking in your heart; I can see through the scars inside you!
You and I see eye to eye.
Now there is nothing between us. From now our merge is eternal.
Can't you see that you're lost? Can't you see that you're lost without me?
It is clear that the singer is forging a connection, a bond, with the listener. The listener is told that they are part of the group, they are understood, they are in a place where they should be. Without this in their life, they are lost. Notice that cults and, some will say, religions work to perform this psychological function in people's lives. They make them feel like part of a tight group where they are wanted and if they depart, their life will be devoid of meaning, left in Hell on Earth or perhaps eternal fires of damnation. Heavy subject matter but something to think about!
The video starts with Cirice, about 11 or 12, and her mom entering a school to watch a talent show. They were late and have to sit in the front row. Cirice looks less than interested in the acts, until Ghost comes out to play. The crowd is uncomfortable except for one couple who look slightly demonic; possibly the parents of Papa Emeritus, who is now singing directly to Cirice. She instantly feels a connection, and stands hand in hand with Papa as her mom tried to pull them apart. She succeeds but then when the MC tries to attack Papa, Cirice exhibits powers that are similar to those of movie icon
Carrie
who has a similar sounding name. All Hell breaks loose!
So is this an Award Winning Metal Performance or the work of The Devil himself? Have a look and decide for yourself!
Now if you thought that was Satanic, evil and creepily disconcerting... let's go back 50 years to the groovy 60s when the Hippies were singing about Love and Flowers. Not everyone was so happy. There was a man named Jason Crest who related his experience at a terrifying Black Mass.
Let there be light; stop these sounds! ahhhhh Black Mass-s-s-s-s-s. Heavy organ music, creepy evil lyrics and chanting, and a backwards percussion track might give you nightmares. Have a listen to "Black Mass" by Jason Crest, and ponder on whether this old slice of demonic horror from the swingin' 60s outdoes the new Satanic Ghost band or not!
Labels: Alice Cooper, BABYMETAL, Black Mass, Black Sabbath, Blue Oyster Cult, Carrie, Cirice, doom, Ghost, GhostBCVEVO, Jason Crest, KISS, metal, Pink Floyd, religion, Rock, Satan
Sunday, April 17, 2016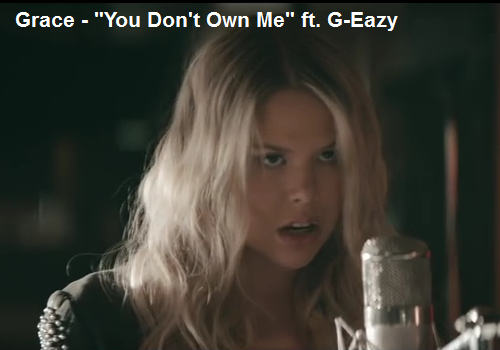 I am just starting to hear the song, "You Don't Own Me" on the local Top 40 Hits radio station. I am familiar with this tune and I wonder how many others know that it is a remake of a hit song originally released over 50 years ago! Here is the story of "You Don't Own Me!"
Almost 70 years ago to the day, Lesley Sue Goldstein was born in the New York City borough of Brooklyn. When she was just a junior in High School, using the stage name of Leslie Gore, she reached the top spot of the music charts with her first song, "It's My Party." After a few more hits, Leslie Gore was offered a proto-femenist song called, "You Don't Own Me." Leslie recorded the song when she was 17. In February 1964, the song shot to the top of the pops, stalling at number 2, being blocked from the #1 spot by The Beatles song, "I Wanna Hold Your Hand."
"Don't tell me what to do! Don't tell me what to say! And please, when I go out with you, don't put me on display!"
"'Cause you don't own me; don't try to change me in any way! You don't own me; don't tie me down 'cause I'd never stay!"
"I'm young, and I love to be young; I'm free and I love to be free! To live my life the way that I want; to say and do whatever I please!"
The music is in 3/4 time, a waltz basically. Instrumentation is strings with bass and drums, with lots of reverb. Leslie Gore's vocals float above the music. She has a wistful singing style in parts of this song, but she sounds strong, determined and self confident in other parts.
The producer of this record was none other than the well known music man, Quincy Jones! Quincy Jones is known for having worked with many famous musical names, from Frank Sinatra to Michael Jackson. Quincy Jones must have had this song in his mind for many many years, because last year, he worked with another young female singer to remake it! But first, here is the original song, You Don't Own Me, by Leslie Gore.
If you were not familiar with the original version, having only heard the new remake that is out today, you may be surprised to hear how closely the remake tracks the original. One possible reason for that is... Both songs were recorded and produced under the musical supervision of Quincy Jones! Leslie Gore passed away last year, and when Quincy Jones heard Australian singer Grace's voice, he felt that she should record a new version of "You Don't Own Me" as a tribute to Leslie Gore.
Grace Sewell is a young Australian singer who grew up listening to music from the 1960s. In 2015, at the age of 17, she began to record tracks with Quincy Jones. One was this remake of "You Don't Own Me," and it was released in March and the video came out in June. The song immediately shot to the top of the Australian charts. But it only began to hit in America after Grace began to promote her upcoming EP in early 2016, including an
appearance in January 2016 on Live with Kelly and Michael
, where she sang You Don't Own Me, almost identical to the original, without the rap parts in the radio version.
Currently, the official video for the Grace cover of You Don't Own Me has 30 MILLION views! The song is in the top 30 on the American charts, surely destined to become a major hit, and a great debut for Grace! Here now, is the new cover of You Don't Own Me, originally by Leslie Gore, now by Grace, featuring G-Eazy.
Labels: 1960s, Grace, Grace Sewell, Leslie Gore, music, music video, oldies, pop, Quincy Jones, rap, remake, You Don't Own Me
YouTube™ is a trademark of YouTube, LLC.
YouTubeStars and YouTube are not affiliated in any way.