Monday, April 07, 2014
Danni Reviews Hidden Gems with Amazing Voices!
Guest Blogger Danielle Hatfield is back with her latest post for YouTubeStars! Danni is a beautiful woman from Alabama, as you can see above. We first found this talented singer on YouTube back when she was in High School. Now she is a college graduate and is getting married; congrats Danni!
Check out Danni's excellent singing videos on
her YouTube channel
! One of my favorites is
this video
of Danni singing Amy Winehouse's hit "
Rehab
" Also watch and listen to Danni sing
"Make You Feel My Love" by Adele
.
In her newest guest blog post for us, Danni reviews three "old school YouTube videos of regular people with singing talent, just sitting in front of their camera, singing a great cover tune. See what Danni has to say and watch the three music videos she talks about!
Hidden Gems with Amazing Voices!
Hi everyone!! I'm so excited to get a chance to write another guest blog! It's been too long!
Did you know that there are 100 hours of videos uploaded to YouTube ever minute?! That's crazy right?!! I mean seriously, sit there a minute and let that information absorb into your brain, so that you can get the complete "WOW" factor of it!
I'm sure now that you are trying to grasp that knowledge, you can understand that there are so many videos with people with real talent that just gets lost in the madness of it all. I like to think of those as hidden gems.
Today when I started writing this, I wanted to find a few hidden gems that deserved to be in the spotlight. That's exactly what I did! I found three videos of people with amazing voices that just need to be heard.
The first two videos are what I like to call "old school" style videos on YouTube. Just someone sitting down in front of the camera and singing with an instrumental like covers originally began on YouTube.
This first guy is named Bobby Stanley, and this video is of him covering "The Man" by Aloe Blacc. He also has some other amazing covers on his YouTube channel that you should check out!! (
https://www.youtube.com/user/Bobby10Digital
)
This second video is a cover of a song I personally really love, "Make You Feel My love" by Adele. I don't think this song ever gets old, and Kira did a great job of singing it! She is pretty new to YouTube, with her first video only being posted a month ago. Kira Christoffersen is a talented teen with a pretty smile who likes to read and also writes very well. Maybe she'll do a guest post for us someday! She currently has several other really nice covers on her YouTube page (
https://www.youtube.com/channel/UCJ_1odW86ExwFCLwsytnRWQ
).
This last video that I wanted to share with you is a cover of "Team" by Lorde. I was pleasantly surprised by this cover. Trix is a dark haired teen from Holland who sings and plays the guitar. She did an awesome job, and her voice is perfect for this song! I can't wait to see what other covers she decides to do.
You can find other covers by Trix on her YouTube Channel (
https://www.youtube.com/OfficialTrix
).
I hope you enjoyed these videos as much as I did, and found three new people to subscribe to!
Labels: "Danielle Hatfield", Bobby10Digital, Danni, Kira Christoffersen, OfficialTrix
Sunday, March 02, 2014
Bunny Meyer is Grav3yardgirl on YouTube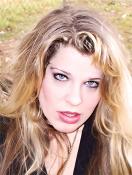 Long time guest blogger, Diana (attractive picture at left), is here to review 3 videos from Swap Queen YouTube Star Bunny Meyer, Grav3YardGirl! Read what Diana says about this woman who has been making fun and entertaining Product Review videos for over 3 years now. Grav3YardGirl is very popular, with about 2 Million subscribers, and Diana will tell you why so many people love Grav3YardGirl!
http://www.youtube.com/user/grav3yardgirl
INSTAGRAM: @grav3yardgirl
https://www.facebook.com/grav3yardgirl
http://www.etsy.com/shop/enmortem
Hello all, I would like to introduce you to a girl named Bunny, A PEARLAND, TEXAS native, born August 3, 1985. This self proclaimed Swap queen has the bluest eyes I have ever seen!
Bunny started her channel in December 2010 because of depression and anxiety issues but, by her newer videos, you would NEVER know she was anything but a silly, adorable and bubbly person. I mean she has to be doing something right to have 1,986,472 subscribers and 148,463,791 views, right?
I have been a subscriber for about 4 months now. I found Bunny by mistake as I was searching for serious reviews on some products I was looking into buying. Now her reviews are serious, but have a twist. She is so funny I have laughed till I cry! She says she is doing the reviews as an average Joe or Jane -- like everyone else who has no idea if the thing works when she unboxes it. Watch her open it and test it for you with an open and honest review. If this works or not, in her opinion, is only part of the reason to watch her reviews. Her personality is the reason I, in two days, watched all 21 of her "Does this thing really work" videos. Even things I had no interest in buying at all, I watched them to watch her. She has a way of drawing you in and making you want to see more! It's also all in the name of comedy, rr as she puts it, in the name of science.
After I was done with all her "Does this thing really work" videos, I felt obsessed and wanted to know more, so I saw she has about 600 videos! Haha, I have not even put a dent in her videos, much less watched them all. But I do have favorites. I will name two others I watch all the time but you can go and pick your favs, and trust me, set some time aside. It's like with potato chips, you can't eat/watch just one.
Lets start with how I found her, doing her reviews on "As seen on TV" items, DOES THIS THING REALLY WORK?
CURLFORMERS- DOES THIS THING ACTUALLY WORK?
Now no judging but Bunny fails big time on making these things work. I bought them and used them before I watched this video and they work really well for me and I have long hair, but not everyone can make them work, and Bunny is like I stated before, your average silly Jane, trying to make it work. It took me a few tries myself to get them to work, and it does not tell you how long to keep them in really so Haha, Bunny has an epic and hilarious fail on this one.
This happens on some of her "Does this thing really work", like for HOT BUNS- DOES THIS THING REALLY WORK? ( https://www.youtube.com/watch?v=6YD2Bp03Fus&list=PLKjMTiyvJhnZN7c4DQS2qD8LMgkUwZUag&feature=c4-overview-vl ) Another epic fail but so fun to watch; not everyone can make everything work. I again LOVE the Hot Buns and use them all the time, but it took me about 5 tries to learn and make it work...
Me in my hot bun:
As she is just opening the items and reading the directions and doing the video, she shows you how simple or hard a "As seen on TV" item can be to get to work. That is why it's so fun, some work right away and are easy, others take time and practice, but if you are doing a review on how it works the first time, a lot of times its not going to work out well, and that is something I just find so fun to watch!
Just because you watch a review that does not seem to work well for the reviewer, don't let that stop you from getting something you're interested in. Everyone is different and you never want to miss out on something you may love just on someone else's opinion! Case in point, I love both product she could not seem to get to work, but boy did I have fun watching her try!
Next is a video I love because it can be a "let's do this together" video journey. Have you heard of the Wreck This Journal? Fun for almost all ages. You can get your own Wreck This Journal at most local Walmart's or
Walmart online
OR all you Amazon lovers you can find it there as well.
SO get your own WRECK THIS JOURNAL and start a project with Bunny. She is on week 5 but you can start with video One here. Or just watch Bunny do 10 pages every Wednesday.
WRECK THIS JOURNAL- WRECK IT WEDNESDAYS- WEEK 1
For anyone who's ever wished to, but had trouble starting, keeping, or finishing a journal or sketchbook comes Wreck This Journal, an illustrated book that features a subversive collection of prompts, asking readers to muster up their best mistake, and mess-making abilities to fill the pages of the book (and destroy them). Acclaimed illustrator Keri Smith encourages journalers to engage in "destructive" acts -- poking holes through pages, adding photos and defacing them, painting with coffee, and more -- in order to experience the true creative process. Readers discover a new way of art and journal making, and new ways to escape the fear of the blank page and fully engage in the creative process.
This book, based on 450 reviews, has a 5 star rating. So either wait and get your own journal before you watch and join in on the fun, or watch her wreck that journal ever Wednesday and see how much fun she is having while being her silly adorable self. Watch her or join in as she drops her journal off the stairs, draws and pokes holes in it, puts food on it, rubes it in dirt, steps on it, smacks it on walls, and my fav -- takes it for a walk with her on a leash!!! If joining in or just watching you're sure to have a blast!
Our last video is kind of a series as well; its called THRIFT HAULS. Who besides me and of course Bunny loves to go to THRIFT STORES??? OH I love used things, from clothing to jewelry, to well ALMOST anything. I love the fact not only am I getting something at a great price, I love to think about the story behind the item as well. So let's start with her first video that she made way back in early 2011.
HOW TO: shop at a thrift store and a trifling haul
This was a video made 3 years ago and the Bunny you get used to seeing nowadays was somewhat different back then. Just starting out you can see she is more serious and maybe a little more nervous. I love watching her blossom with each video she makes.
In this video, Bunny states her opinion on Goodwill, and one that I will have to agree with. While they do a lot of charities that are awesome, I too feel they try to overcharge for their items they had just been handed. So I too have stopped shopping there. If you're a Goodwill junkie, that is awesome, don't let anyone tell you where you can or can't go; what you like is what you like and you should be proud of that.
I love to thrift and was hugely into it in high school. Not having much money and coming from a poor family meant back to school shopping was a chore. I started to go to all the thrift stores around town and had a blast finding the then popular clothing for like 1 or 2 dollars. No one knows where you got it, but I was not ashamed to say, yeah I got it here used for 50 cents because, hey you paid 20 dollars for yours and I got mine for 50 cents, Haha. :P No shame there. You can find amazing items at your local thrift stores and not follow anyone's demand of cool but your own. Make your own look and your own fashion at a fraction of the cost! Nothing to lose and so much to BUY!!!
Thank you guys for reading another review by me, Diana, and I would love to hear what you think about Bunny and your thrift store finds that made you jump for joy. Are you getting a Wreck This Journal? Do you already have one? And last, what "As seen on TV" products do you love or just can't seem to make work?
Labels: Bunny Meyer, Diana, Dianahottie78, grav3yardgirl, review, shop, swap
Thursday, February 20, 2014
Lyn Price Reviews 60s Rock Videos
Today we welcome a NEW guest blogger, Lyn Price. Lyn is a talented singer who is joining us to review Music Videos from the 1960s! Read what Lyn says about two Garage Rock videos and a huge Psychedelic Pop hit by rock stars Tommy James and the Shondells.
Groovy Sixties Tunes!
The Monocles
"I Can't Win"
In Los Angeles, 1967, a songwriter named Jim Newby wrote a classic garage hit - "I Can't Win"
This track stood out among others because it contained all the makings of a great Garage song. In a record shop, in the front row, you could see the song "I Can't Win". Once you hear this song, you want to hear it again and again.
"I Can't Win" is still a winner. One reason may be that elements of Garage Rock are flying high at high speed. This track delivers - Garage at it's best with Surf, Rockabilly, Psychedelic and Exotica. The music flows - makes the listener want to dance.
The Illusion
"Did You See Her Eyes"
In 1969, a band from Hempstead, Long Island, New York got hold of a smoking hot Garage song entitled "Did You See Her Eyes". The song, filled with exquisite drum rolls, earth shaking harmonies and psychedelic heaven, made it to 32 on the Top Forty.
The video, put together by Music Mike, has not lost anything, even a moment of the excitement that this track generates. Illusion are a fantastically good Garage band and this video, with music and pictures, put Illusion on the map.
The video is psychedelic, with colors flowing and images dancing. This song did put Illusion on the map. And it's still there, ready to pick up and move forward.
Do not miss out on listening to this track. It moves.
TOMMY JAMES AND THE SHONDELLS
"Crimson & Clover"
"Hanky Panky," "Mony Mony," "I Think We're Alone Now," "Crimson and Clover," "Crystal Blue Persuasion," "Draggin' The Line"... The music of Tommy James is heard continuously, everyday, in every country in the world: on radio, television or a film soundtrack. To date, he's sold over 100 million records and has been awarded 23 gold singles plus nine gold and platinum albums.
Born in Dayton, Ohio and raised in Michigan, Tommy James was modelling at age 4. He formed his first band early on - and recorded "Hanky Panky". Although it achieved success on a local level, it didn't move the way it should have but, several years later, the song was found in a record bin by a D.J. Then the crowds began to request the song again and again.
This song, "Crimson and Clover" is sung with a lot of feeling and was immensely popular. The same goes for all his songs, and "Hanky Panky" is such a good dance record that it's not surprising the crowd responded well to the D.J.'s decision to push it. The response to "Crimson and Clover" was something close to magic. Tommy James, born Tommy Jackson, has been putting music out there for a very long time. Let's give him and the Shondells a large round of applause !
Labels: "Lyn Price", "Tommy James and the Shondells", "Tommy James", 1960s, 60s, Garage, Garage Rock, Lyn, music, Rock
YouTube™ is a trademark of YouTube, LLC. YouTube Stars and YouTube are not affiliated in any way.